The Ryan Licht Sang Bipolar Foundation is dedicated to fostering awareness, understanding and research for Early-Onset Bipolar Disorder. The Foundation is on a QUEST FOR THE TEST™ to find an empirical, biomarker test for Bipolar Disorder so that early detection and early intervention become a reality.
ANNOUNCEMENTS
Visit smile.amazon.com and name The Ryan Licht Sang Bipolar Foundation as your charity. For every qualified purchase you make, the Foundation will receive 0.5% as a donation from Amazon.
Be social with us on on Facebook and Instagram where we will be sharing about art, exercise, creativity and beyond in a safe space where everyone can connect.
The Ryan Licht Sang Bipolar Foundation was founded in memory of Ryan Licht Sang who passed away at the age of 24. Ryan had Early-Onset Bipolar Disorder — a serious medical illness of the brain that manifests itself with recurring episodes of mania and depression. At the time of his death, he was in the most productive and promising phase of his life.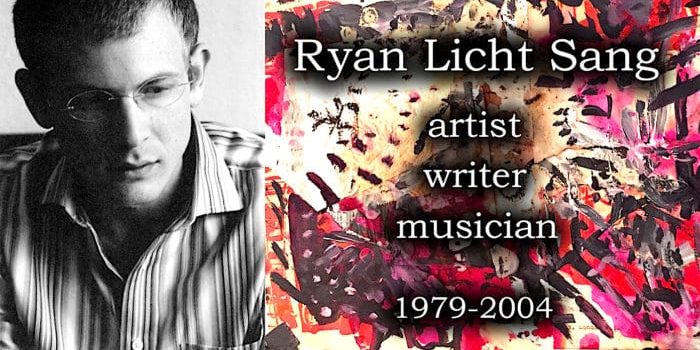 Margaret Trudeau
Margaret Trudeau, Canadian icon, author and mother of Canada's Prime Minister Justin Trudeau, spoke at the Foundation's 2020 Palm Beach Bipolar Medical Briefing Luncheon about her life having Bipolar Disorder and the impact that it had on her family, her friends and her community.
Mariel Hemingway
Mariel Hemingway spoke at the Foundation's 2016 Palm Beach and Chicago Bipolar Medical Briefing Luncheons about the impact Bipolar Disorder had on her life and on her family. She was also interviewed about the Foundation and Ryan in People. Click here to read the article.
Bipolar Awareness Ribbon
The Bipolar Awareness Ribbon is the symbol for The Ryan Licht Sang Bipolar Foundation. The black and white colors of the Bipolar Awareness Ribbon represent the opposite poles of depression and mania associated with Bipolar Disorder. The Ribbon was designed for the Foundation by Ryan's mother.
NEW: To help the Foundation spread awareness and understanding about Bipolar Disorder in these difficult times and to do something positive that shows we are all connected, consider making a donation in honor of someone's Birthday or start your own Birthday Fundraiser by clicking here.
INSIGHTS IV Art Exhibition
The Ryan Licht Sang Bipolar Foundation hosts an annual Art Exhibition entitled INSIGHTS. The Exhibition was designed to highlight the creativity of artists with Bipolar Disorder.
The INSIGHTS III Art Exhibition was held at the Zolla/Lieberman Gallery, 325 W. Huron Street, Chicago, IL, from October 24-26, 2019.
The INSIGHTS IV Juried Art Competition, limited to Self-Portraits, in any medium, by artists with Bipolar Disorder will be open for submissions from December 2, 2019 to March 31, 2020. The submission period is now closed. Announcement of Grants was emailed to artists on May 19, 2020.