Dog of the Year (2020)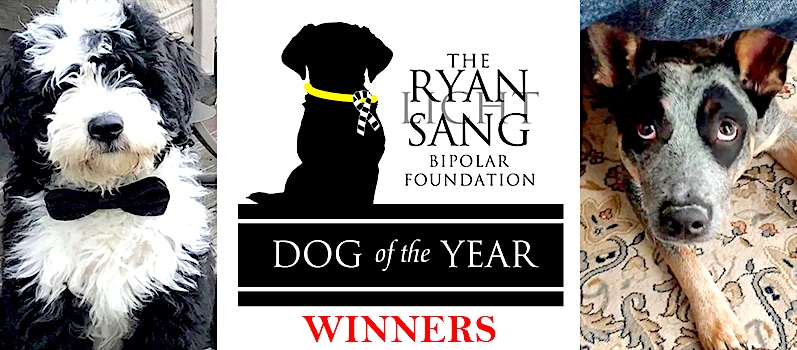 To support the Foundation's mission in this most stressful and disruptive time, the Foundation turned to the comfort of dogs to help us through these days of the pandemic. Because of the unconditional love from our most loyal friends and their soothing effect no matter what is going on in our lives, the Foundation thought a positive effort that could bring joy to everyone and help the Foundation carry out its mission at the same time felt right.
As a result, the Foundation initiated its DOG OF THE YEAR campaign to spread awareness and understanding about Bipolar Disorder. We encouraged people to start their own team or establish their own fundraiser by featuring a photograph of their special dog and to compete with others around the US for the title of DOG OF THE YEAR.
Congratulations to WALDEN E. CRUMBWORTHY of Team Lockshin (left photo) on being named DOG OF THE YEAR (2020) for raising the most funds for the Foundation during this special campaign. And congratulations to BAGEL of Team Bagel (right photo) on being chosen by New York Times bestselling author Susan Wilson for having the most heartwarming story.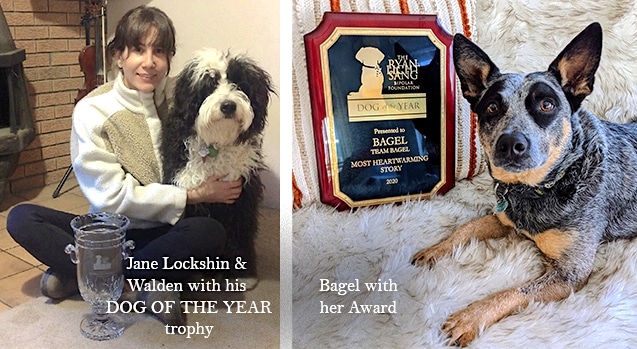 DOG OF THE YEAR
Walden E. Crumbworthy 
My name is Walden E. Crumbworthy. I am a Bernedoodle puppy born in May of 2020. I love to play, nap, scavenge for treats, but most importantly, I love showing my support to humans with Bipolar Disorder. I have a human sibling  with Bipolar so this cause is near and dear to my heart. Please donate to my fundraiser to the Bipolar Foundation to raise money and awareness! Being awarded Dog of the Year will make me happier than all of the belly rubs in the world.
MOST HEARTWARMING STORY
Bagel
Hi, my name is Bagel. I live in Chicago and I love people, string cheese and ear scratches (and especially people who give me string cheese and ear scratches).
I am known for my wiggly butt. I was born without a tail (I just have a little nubbin), so when I am happy to see you (which is always because I love you very much), I wiggle my entire back half. This seems to make people happy, and I like to make people happy.
Unfortunately, some people have a hard time being happy. People who struggle with Depression, Bipolar Disorder and other mental illness are often not able to control their emotions or actions, no matter how much they want to. Mental illnesses are diseases of the brain - they are no different from diabetes, heart disease or cancer and they can be just as deadly. If I could wiggle my butt to make mental illness go away, I would. But instead, I am raising money to help fund research that will help to treat Bipolar Disorder, which is a particularly complex mental illness.
Bipolar Disorder involves periods of being  extremely "up," (elated, irritable, or energized behavior  - known as manic episodes) to very "down," (sad, indifferent, or hopeless periods - known as depressive episodes). The Ryan Licht Sang Bipolar Foundation is a non-profit organization that is working to fund research that could eventually find a test for Bipolar Disorder. The thing about Bipolar Disorder is that it's super hard to diagnose, which makes it even harder to treat. If there was a test, that would help people who are suffering get treatment that much faster.  It would mean they could be happy that much sooner. And, as I mentioned, I like it when people are happy.
I would love your help as I raise money for The Ryan Licht Sang Bipolar Foundation. If you can contribute, that would be great. If you can share this page with your friends and family, that would be great, too. The fact that you even came to this page makes me very happy!
Thank you for your time and your support. I love you more than string cheese.